Post by vwadam on Mar 18, 2012 22:09:30 GMT -5
First off, I apologize for the novel. I didn't realize how long it was until I finished........ There are pictures after, I promise :wink:
The story of this Beetle and I is the story of how I got started into Volkswagens.
Ok, so when I was about a year old my aunt turned 16 got a Beetle as her first car. It still baffles me that my grandfather, who never bought a foreign car before or since bought her a VW. I think it was fate.
Anyway, so my family says that I took the car immediately. I would stand in my crib and look out the window at the car parked outside. My aunt's name is Stacy, which I pronounced "tacy" therefore Beetles were "Tacycars" and I would point them out on the roads. This being the mid-80s there were more Beetle still around.
Unfortunately she ended up wrecking the car sometime in late 1987, when I was 2. The car sat in our yard after this. One day we had a decent snow which is usually a rarity in the deep south and my grandfather took me outside to play in the snow. He said I was squirming and wanting to be put down so he put me on the ground and I ran straight to the wrecked Beetle.
This is a picture of that day. I was running to the Beetle when my mom called my name and I looked back.
After this I would sit in the car and pretend to drive it. A few months later my grandfather sold it and I was not happy. Being that I am their first and at that time only grandchild I was spoiled by them and my grandfather decided to buy a non-running junk Beetle for me to play in.....
I was three years old when my grandparents and I went to a local man's house who had a few Beetle sitting around and I got to pick the one I wanted. The spotty memories I have of this day are my earliest memories. I remember pointing to a faded red Beetle with a white door and no seats and saying "that one" My grandmother tried to get me to look at another one that was nicer but my mind was made up. My grandfather paid $60 and had a friend tow it to our house.
I can remember standing up in the car, where the front seat is supposed to be and being about the same height as the steering wheel :lol:
A couple of 5 gallon buckets served as front seats and I had many imaginary road trips throughout my childhood as my obsession with Volkswagens grew.
1991-92
[/quote]
1993ish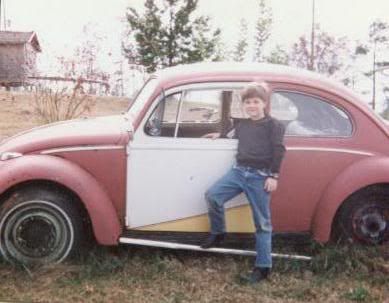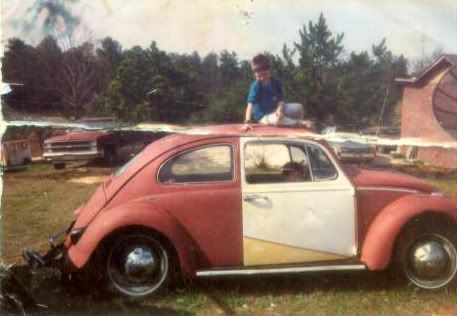 1995 after I found some spray paint in the shed :oops: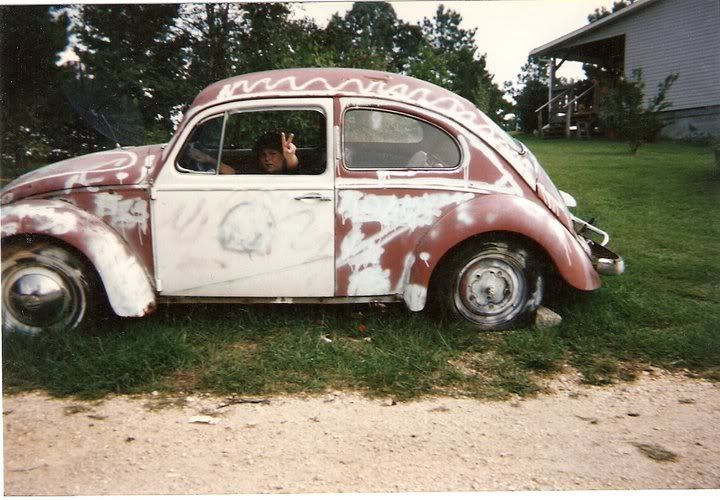 Fast forward to the early 2000s and I'm driving age. The prospect of getting the '59 going seemed to be a daunting one and since I had no help, I ended up getting a nice '71 Beetle that served me well for a few years.
In early 2004 however I drug the 59 from my grandparent's shed to my house.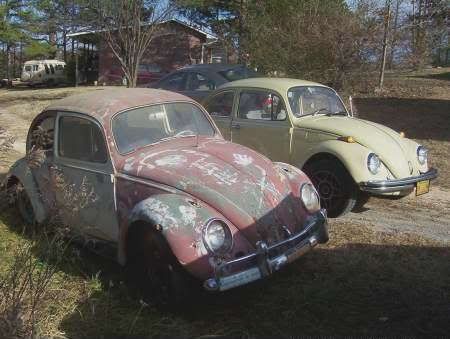 But then aside from collecting parts, it sat for four more years while I became obsessed with split window Buses.
I didn't really get it going until 2009. I sprayed the car with Krylon jade green so it would all be one color since with all of the parts I'd replaced (fenders, hood, decklid, doors) the car was about 5 different colors. That and I'm poor. :lol:
I pulled out the old blown up 40hp and put the right engine back in there, a mighty 36hp!
One notch in the rear and a 5 inch narrowed beam took care of my ride height preference.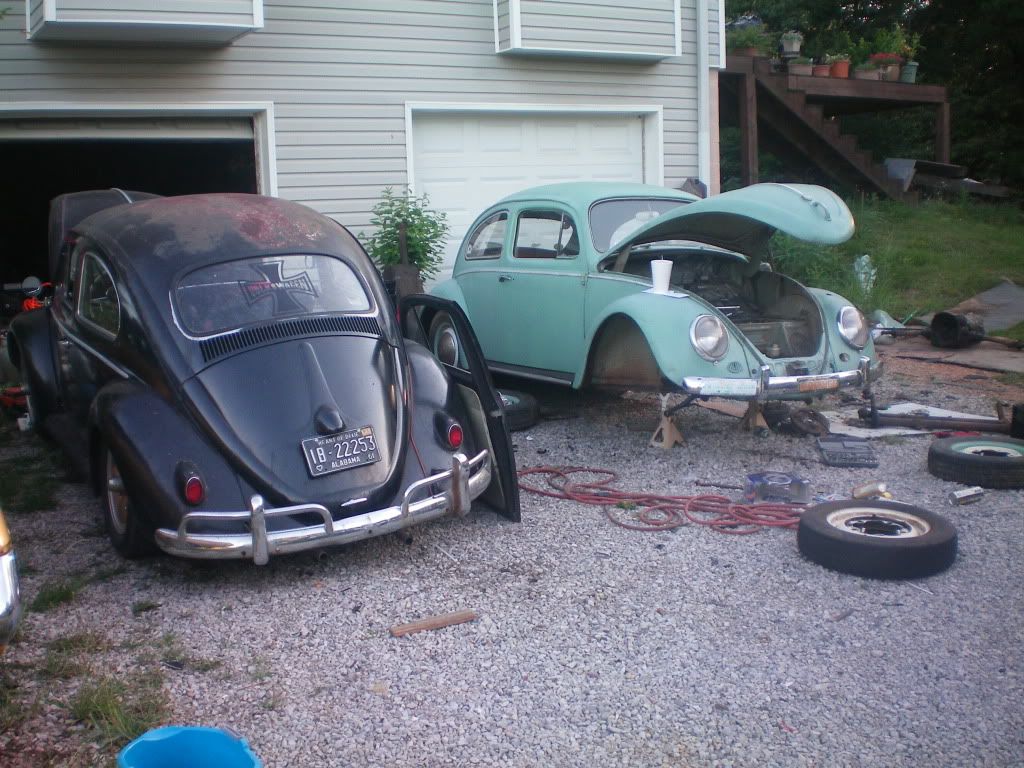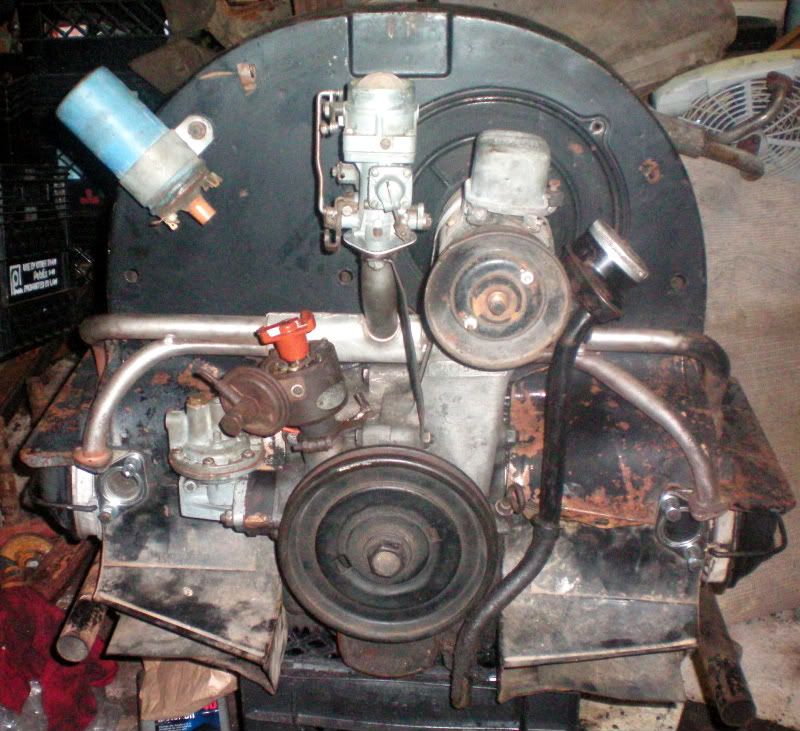 My first drive. I admit, I got a little misty eyed after it hit me what I'd just done.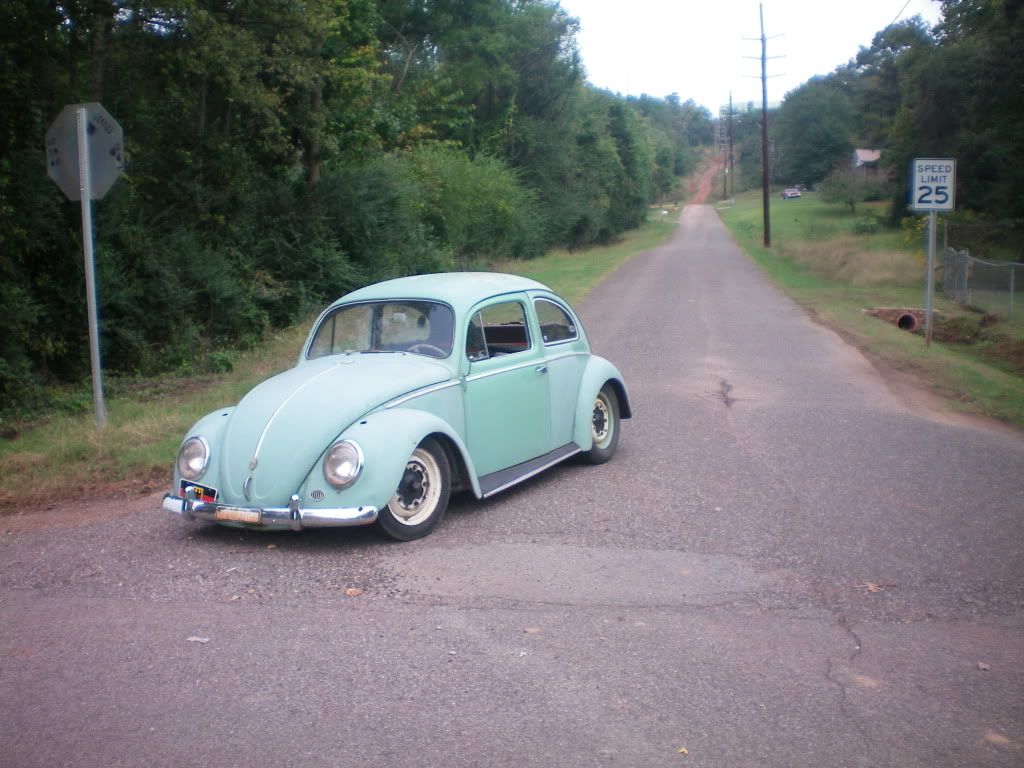 First time at a gas pump in 24 years.
Thanksgiving 2009; a day I will never forget. I took my grandparents for a drive for the first time. My grandmother was smiling from ear to ear and my grandfather was visibly impressed which is something that doesn't happen often.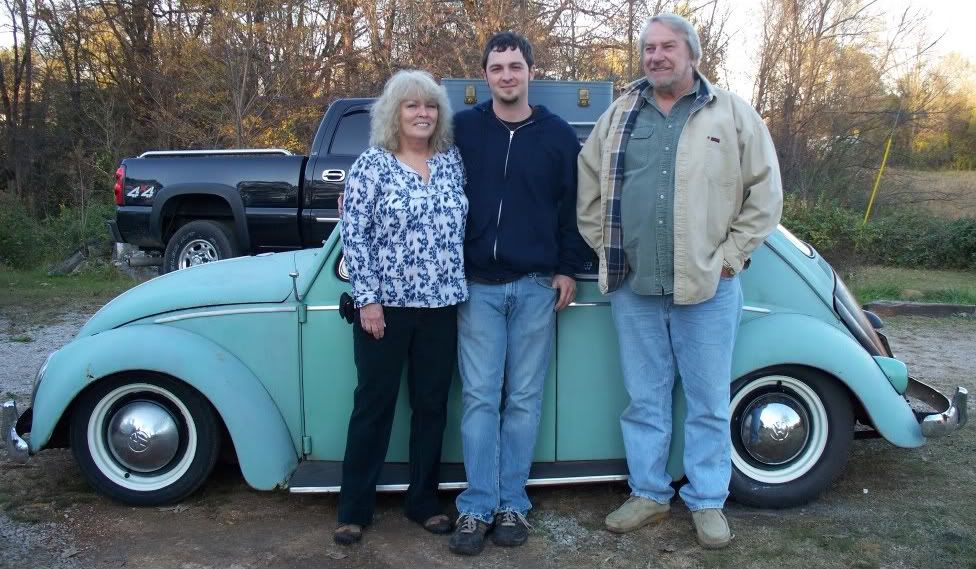 Local show August 2010, first VW show appearance 8)
About a year ago, a couple of friends and I made the car what I always wanted, a ragtop. It was not a fun process, but I hate body work.
I do love the end result though 8)
Me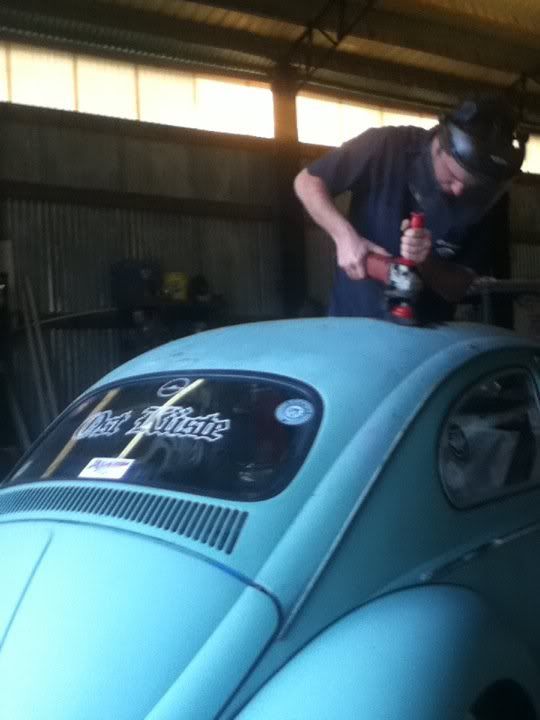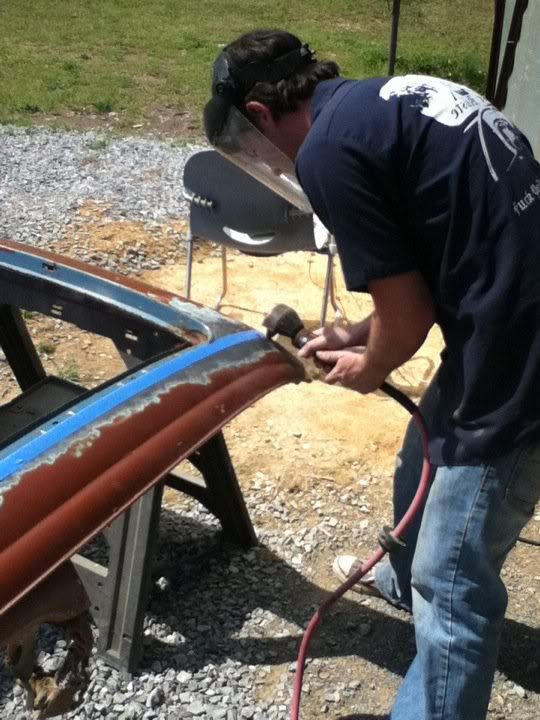 I've had some engine mishaps but I do buy 50 year old mystery engines....haha. She's been through some crap, been wrecked, beat up, blown up, stripped of parts, and is now pieced together from about 10 different cars but she's all mine. She's a true survivor and at 52 years old is serving her intended purpose. Transportation.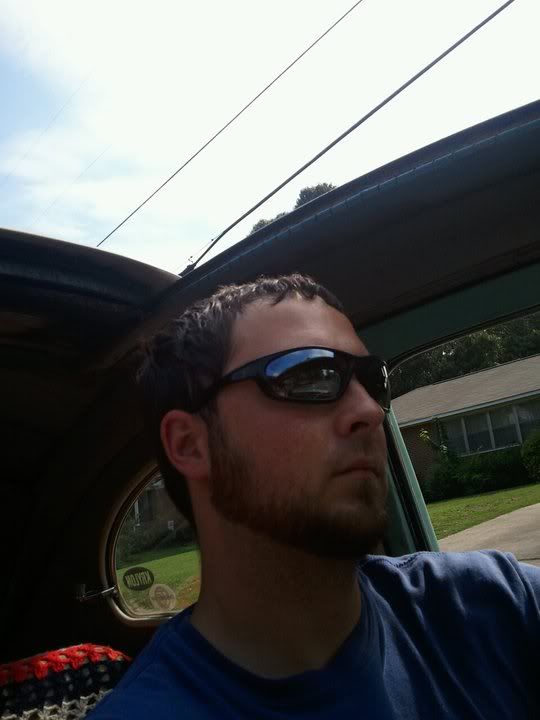 Beach trip last summer to Panama City Beach, Florida.
Driving up the beach early one morning with rag slid back was pure bliss.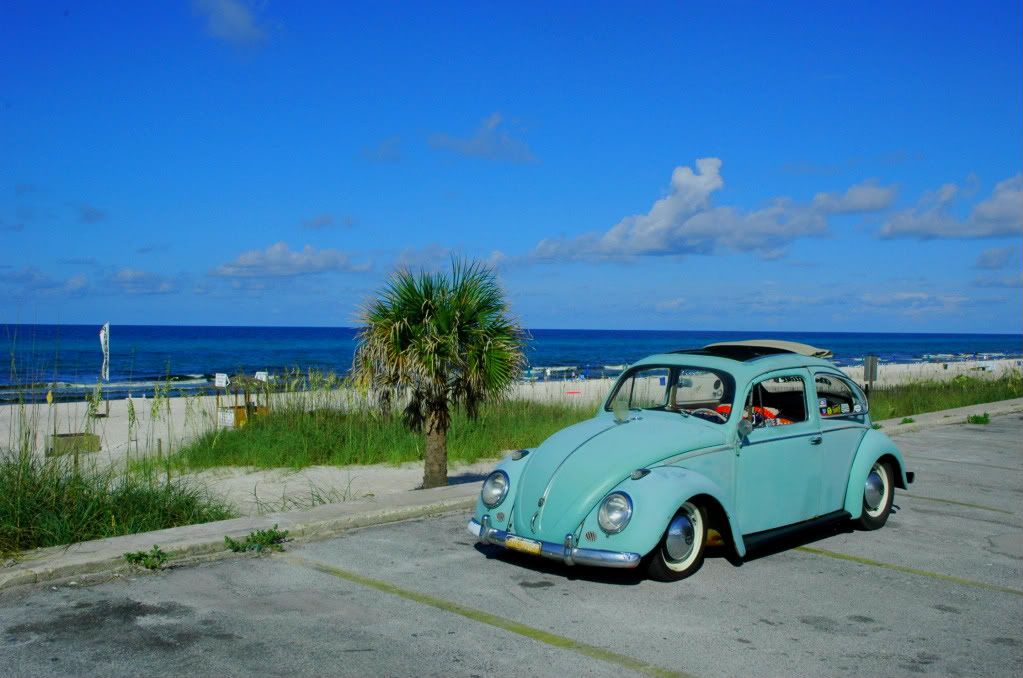 On the beach since '59!
With my Dad's '61 at the beach house.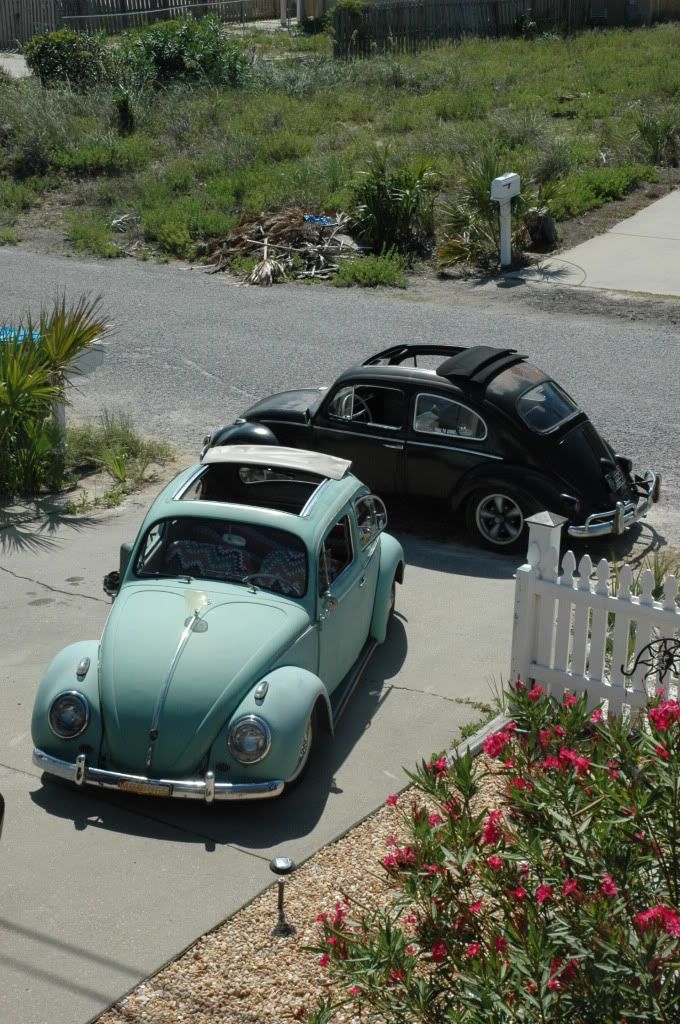 Even met up with the local VW crew down there, one in a BARNDOOR!!!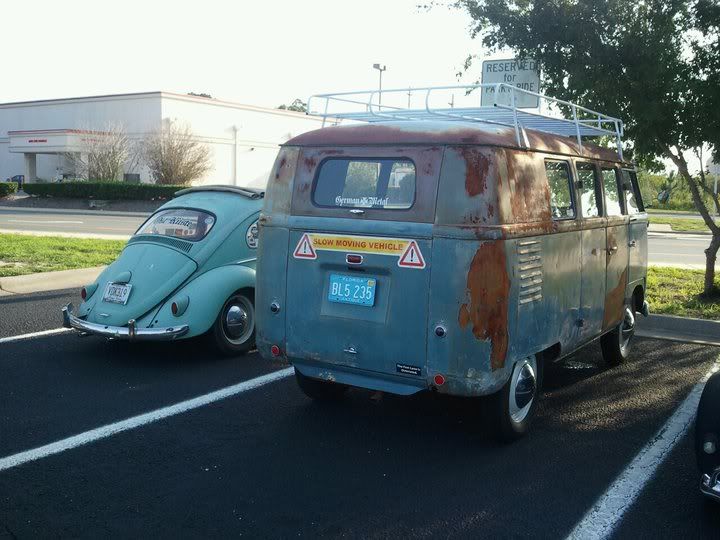 Props to my mom for standing out of my dad's sunroof to shoot these.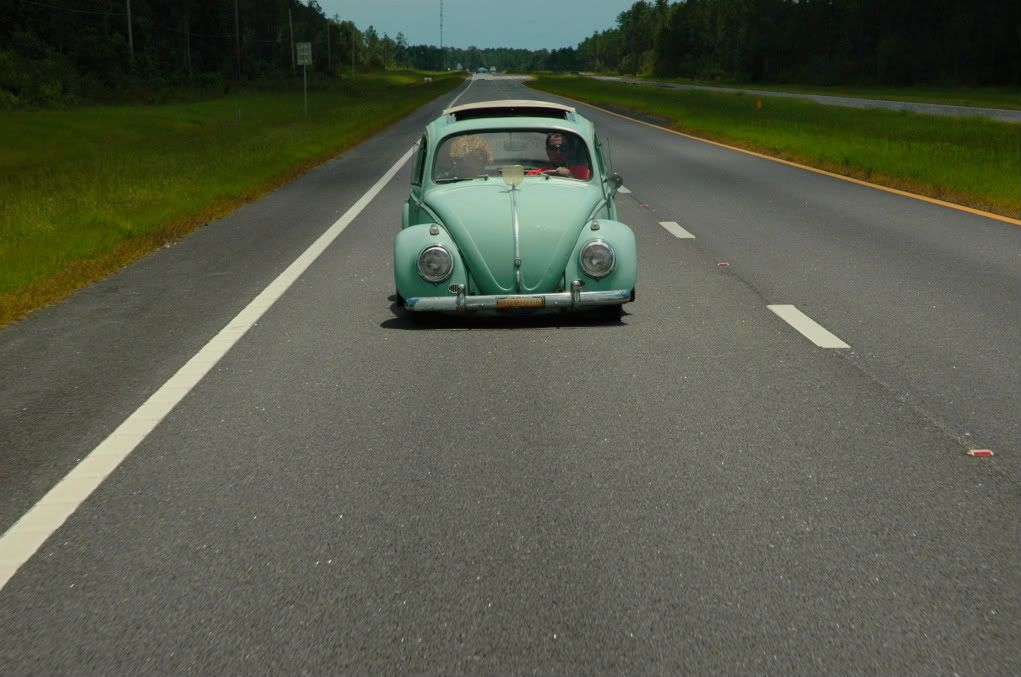 And the fuel pump replacement. My Dad in the gray shirt, grandmother on the right. You can also see my permanent tribute to one of my favorite things about a 58-59, on my left calf.